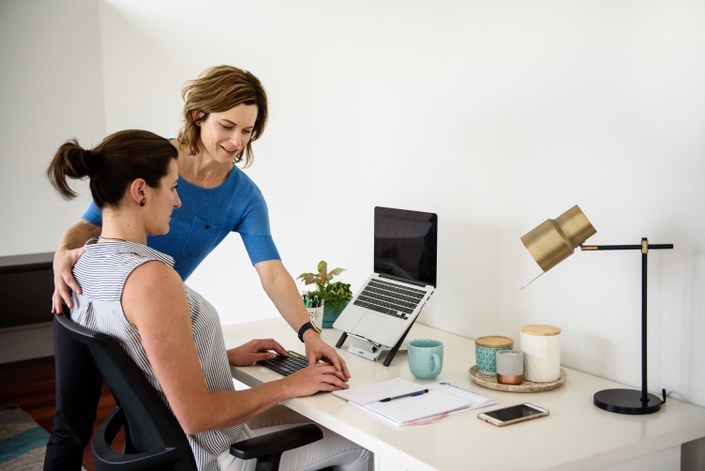 'Be Fit 2 Sit' Posture boost & Pain Relief Program
Personal mentoring with Physio Kym for tailored Posture & Ergonomic advice, Desk Exercises & Stretches to improve your posture & relieve pain & strain for good!
Join Physio Kym as she guides and encourages you to 'Be Fit 2 Sit'
Weekly Coaching with Kym mentors you with individual advice, to address your areas of strain & pain & your posture concerns + ongoing access to the Online 'Be Fit 2 Sit' Course
* Ditch your Strain & Pain, boost your Energy Levels & improve your Posture with Ease *

Let Kym hold your hand and empower you with the tools you need to ease muscle tension and strengthen your anti-slouching muscles... go from feeling stiff, sore & sluggish to strong, supple and super confident!
Each week, over 4 weeks, Kym will walk you through the 'Be Fit 2 Sit' principles... giving you practical advice that you can action immediately and get all your questions answered!
Week1 'Relieving Strain, Pain & Drain' Strategies, Stretches & Exercises you can easily fit into your day to provide relief from stiffness & soreness + boost your energy levels
Week 2 'Practical Posture tips to ease tension & boost confidence' Get to know your unique posture, how to stretch effectively and strengthen your 'anti-slouch muscles'
Week 3 'Your Ergonomically Friendly Desk Setup' Let's setup your workspace to take more strain off your body
Week 4 'Healthy Habits for life' Develop good habits while you work, use phones/ tablets, driving, even doing the housework!
Access to the 'Be Fit 2 Sit' online course provides ongoing access to Posture & Ergonomic advice, Desk Exercises & Stretches so you feel your best at your desk- and beyond!

Physio Kym will walk you through time-saving tips to
- Feel awesome at your desk in 5 Simple Steps- and as little as 2 minutes!
- Boost your Energy levels and your metabolism (to help lose weight)
- Simple Posture Tips, targeted Stretches to improve flexibility
- Targeted Exercises to ease Pain and switch on your 'Anti-slouching' Muscles
- DIY Ergonomic Workstation Setup that suits your workflow and workspace
- The best Stretches to ease tension in your neck, back and shoulders + more
- Hundreds of Quick and Exercises to do at your desk - 'Workstation Workouts' ... no activewear required!
- Unwind tight, tense muscles with the most effective DIY massage/ trigger points
- Access to experienced and supportive Physio Kym Siddons to answer your questions
- Bonus Masterclasses on dealing with neck pain, back pain, tight shoulders, wrist pain, elbow pain and lots more!
Your Instructor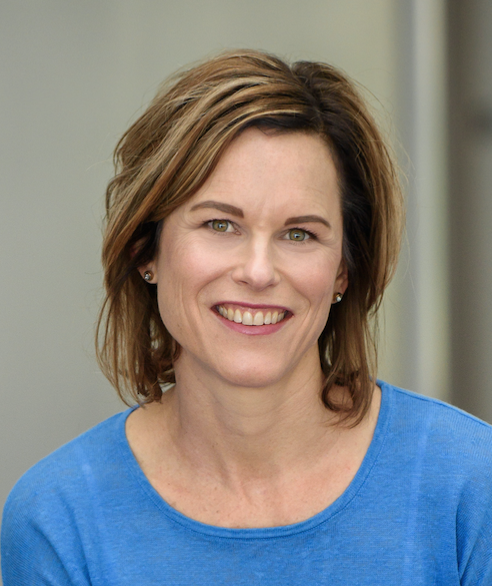 My name's Kym Siddons and I'm a physiotherapist on a mission…
...to empower everyday people to maximise their health and wellbeing at work, in their study and 'downtime' by equipping and empowering them with effective exercises, great posture, positioning & productivity techniques, optimal ergonomics and inspire healthy habits so they are 'fit' to live the active life they dream of!
For many years I worked and travelled with elite athletes such as the Australian Women's Cricket Team, Australian and QLD Women's Waterpolo teams as an APA Sports Physiotherapist.
I'm now also a mum of 3 and when I moved with my husband and young family to Adelaide (Australia) a few years back, I started work in a sports injury clinic in the city…
Working family-friendly hours saw me applying my expertise in injury prevention and rehabilitation to the 'occupational athletes' I now saw streaming in from surrounding offices.
I noticed that desk workers and students also suffered from overuse injuries, just of a different nature.
So I got my certification in Occupational Health Physiotherapy and combined all my skills to educate and inspire my clients, particularly those who sit at a desk a lot, with amazing results…
I was astounded by the impact that a little ergonomic education, regular postural changes and specific exercises made in reducing people's pain, improving their posture, boosting their health and their outlook on life.
Now I am committed to spreading the message further to help more people…
To help them journey towards less pain and stiffness, better posture and flexibility, improved metabolism and concentration and to combat the serious side-effects of sitting at a desk!
I want more people to discover how 'little things, done regularly, can literally change their life'.
Course Curriculum
Welcome to 'Be Fit 2 Sit' :)
Available in days
days after you enroll
Your Desk Makeover- take strain off your Body!
Available in days
days after you enroll
Frequently Asked Questions
What if I can't make the online training/ video sessions?
No worries! They're all recorded for you to watch later. Ask your questions in advance and Kym will still be able to answer them.
When does the program start and finish?
The 4 week program starts on the date advertised and runs for 4 weeks with Physio Kym helping you through it... IN ADDITION, you have access to the online 'Be Fit 2 Sit' course straight away and you can dig into the content ASAP. You'll be able to access all the resources at your own pace, so you decide when you finish, based on how long your membership stays active. You may cancel at any time... but we hope you love it and our 'Be Fit 2 Sit' Community so much you don't ;)
How do I have access to the Program?
How does lifetime access sound? After enrolling, you have unlimited access to this course for the duration of your paid membership - across any and all devices you own.
What if the Program isn't for me afterall?
We would never want you to be unhappy! If you are unsatisfied with the program, or it really doesn't suit you, contact us in the first 30 days and we will give you a full refund.
What if I have prior injuries or illness?
This program offers access to Physio Kym so you can get tailored advice that really suits you, your injury concerns and your needs. We will modify advice and exercises to suit you as we go. If you have confidential questions along the way Kym will address them privately with you (typically via email). Kym has 25+ years experience in working with patients in clinic and in more recent years online, so is very used to tailoring advice and exercises for her clients. If you're still unsure if you're suited to the Posture Boost & Pain relief Program you can book a free chat with Kym HERE https://calendly.com/kymsiddonsphysio/chat
Hi, I'm Physio Kym
I've worked with thousands of clients over the past 25+ years and feel so sad that people suffer needlessly from strain, pain & drain while they work...
Often they start accepting it as 'their normal' tightness & tension and it gradually gets them down. Even worse it can lead to pain and injuries that really impacts on their lives and becomes difficult to manage.
But there's GOOD NEWS! I'm determined to help as many people turn their lives around by being equipped with simple and practical strategies that will turn things around for YOU...
YOU CAN FEEL CONFIDENT AND AMAZING IN YOUR BODY!
I've tried and tested these techniques, stretches and exercises with thousands of people and they really work!
I can't wait to share my expertise and help you feel awesome, especially while you work...so you lead your most active, healthy and fulfilling life outside of work with your friends and family!
I look forward to meeting and supporting you :)
Kym Siddons x