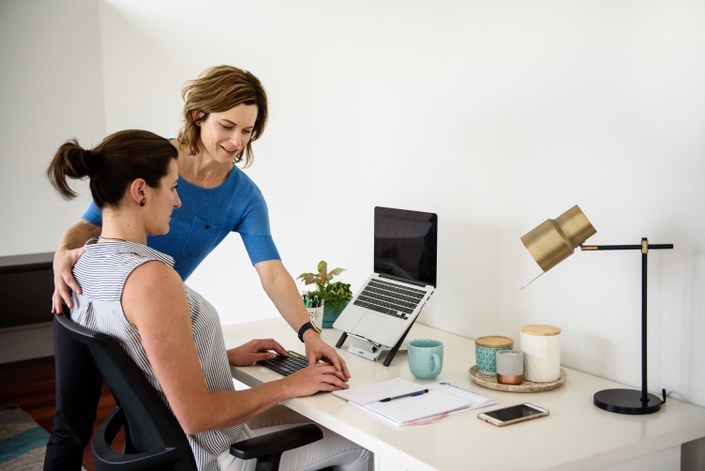 Be Fit 2 Sit
Posture & Ergonomic advice, Desk Exercises & Stretches to feel your best at your desk!
Join Physio Kym as she guides and encourages you to 'Be Fit 2 Sit'
Weekly Coaching with Kym for 4 weeks kickstarts your 'Be Fit 2 Sit' journey with individual advice, to address your areas of strain & pain & your posture concerns

Ongoing Monthly exercises and masterclasses help you progress your strength & flexibility, improve your posture & keep you motivated with *NEW & VARIED EXERCISE REGIMES for work, home & cardio
PLUS ongoing access to the Online 'Be Fit 2 Sit' Course
Physio Kym will show you time-saving tips to
- Feel awesome at your desk in 5 Simple Steps- and as little as 2 minutes!
- Boost your Energy levels and your metabolism (to help lose weight)
- Simple Posture Tips, targeted Stretches to improve flexibility
- Targeted Exercises to ease Pain and switch on your 'Anti-slouching' Muscles
- DIY Ergonomic Workstation Setup that suits your workflow and workspace
- The best Stretches to ease tension in your neck, back and shoulders + more
- Hundreds of Quick and Easy Exercises to do at your desk - 'Workstation Workouts' ... no activewear required!
- Unwind your own tight, tense muscles with the most effective DIY massage/ trigger points
- awesome exercises to do at home, to uwind & relieve your body after work
- FREE RESISTANCE BAND to take your exercises to the next level!
- Access to experienced and supportive Physio Kym Siddons to answer your questions
- Bonus Masterclasses on dealing with neck pain, back pain, tight shoulders, wrist pain, hip pain and lots more!

LAUNCH BONUS- Get 'Be Fit 2 Sit' Students Course FREE for your family


Your Instructor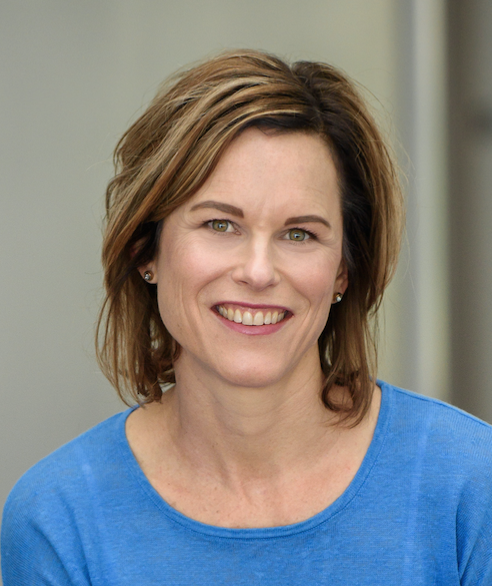 My name's Kym Siddons and I'm a physiotherapist on a mission…
...to empower everyday people to maximise their health and wellbeing at work, in their study and 'downtime' by equipping and empowering them with effective exercises, great posture, positioning & productivity techniques, optimal ergonomics and inspire healthy habits so they are 'fit' to live the active life they dream of!
For many years I worked and travelled with elite athletes such as the Australian Women's Cricket Team, Australian and QLD Women's Waterpolo teams as an APA Sports Physiotherapist.
I'm now also a mum of 3 and when I moved with my husband and young family to Adelaide (Australia) a few years back, I started work in a sports injury clinic in the city…
Working family-friendly hours saw me applying my expertise in injury prevention and rehabilitation to the 'occupational athletes' I now saw streaming in from surrounding offices.
I noticed that desk workers and students also suffered from overuse injuries, just of a different nature.
So I got my certification in Occupational Health Physiotherapy and combined all my skills to educate and inspire my clients, particularly those who sit at a desk a lot, with amazing results…
I was astounded by the impact that a little ergonomic education, regular postural changes and specific exercises made in reducing people's pain, improving their posture, boosting their health and their outlook on life.
Now I am committed to spreading the message further to help more people…
To help them journey towards less pain and stiffness, better posture and flexibility, improved metabolism and concentration and to combat the serious side-effects of sitting at a desk!
I want more people to discover how 'little things, done regularly, can literally change their life'.
Frequently Asked Questions
When does the course start and finish?
The course starts now and you can access it as long as you like! It is a completely self-paced online course - you decide when you start and when you finish, based on how long your membership stays active. You may cancel at any time... but we hope you love it and our 'Be Fit 2 Sit' Community so much you don't :)
How long do I have access to the course?
How does lifetime access sound? After enrolling, you have unlimited access to this course for the duration of your paid membership - across any and all devices you own.
What if I am unhappy with the course?
We would never want you to be unhappy! If you are unsatisfied with your purchase, contact us in the first 30 days and we will give you a full refund.
I can't wait to share my expertise and help you feel amazing while you work- to lead your most active, healthy and fulfilling life aoutside of work with your friends and family!
I look forward to meeting and supporting you :)
Kym Siddons x